Evernote Web Clipper; Note-taking is important for everyone. It is even more important for journalists. Journalists, who used to keep their notebooks and voice recorders with them while they were chasing news with their multi-pocket vests and coats, now use digital tools for this purpose. By using Evernote, one of the most common cloud-based note-taking applications, together with the "GTD method", you can get rid of the stress of keeping everything in mind and make more productive journalism.

Sometimes we take such disorganized notes that we look back and say, "What is this now?" We try to remember. Sometimes we forget the notebook or we cannot find it (it is not enough time to count what is in the bag). Or, no matter how organized you are, there's no guarantee that your notes won't get lost or run smoothly on your computer.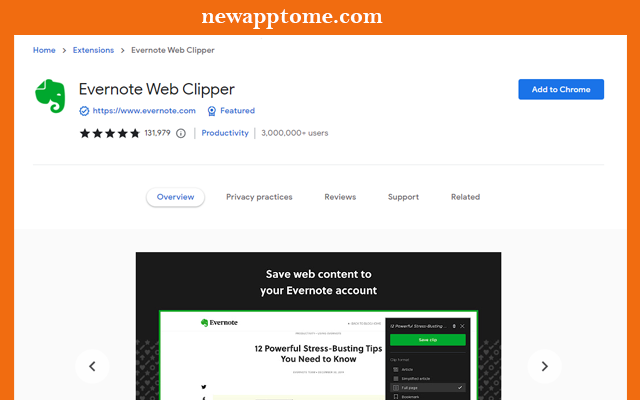 When you come across important information on the Internet, you can also bookmark it in your browser. But it is also necessary to consider that the content on the Internet is quickly deleted. Besides, you can't always find everything that will work for you on the internet. Some things you have to do from scratch yourself. That's why a standalone application that runs in the cloud, meaning it's not lost or corrupted, can be a life saver.
Why Evernote Web Clipper?
The most important reason for choosing Evernote is that it has dedicated itself to creating a simple, functional, and secure note-taking platform since its inception and has no other preoccupation… Moreover, it is supported by many different applications, software, and hardware. It has a special application for all major platforms such as Android, iPhone, and Windows.
Evernote comes with 6 different notes so that its features can be understood. Two of these involve the notebook and its use, the other two the creation and use of notes, and the last two the recording of images clipped from the web and saving them as notes.
What you need to do to create notes in Evernote is very simple. When you start creating notes by pressing the + button on the left of the page, a page like an image below welcomes you. There is quite a lot you can do. With Evernote, you can add task notes, bullet points, numbering, or tables between your notes.
Apart from all these, you can color, format, and divide your texts as you wish; article, file, visual work, etc. You can redirect to web pages by attaching documents and adding links.
You may not find time to read an article you come across while browsing the internet. Evernote has a solution for that too.
What does Evernote Web Clipper do?
The Evernote Web Clipper plugin, which is very simple to use, works organically with your browser, and when you click on the icon on the page you like, the option to save, crop, and tag appears.
Among the saving options are options such as article, simplified article, full page, bookmark, and screenshot. Evernote Web Clipper The article records the page as it is. The simplified article saves as plain text in the reading mode we are used to on phones. with Evernote Web Clipper The full page is saving the entire exposed page of the website. The bookmark only stores its URL, while the screenshot visually saves the open page.
Discipline and order in news writing
The workflow of journalism is complex at times and lack of time is a common problem. While writing the news, you may actually be thinking of another news at the same time. Or, while you are writing the news (it may change according to the press time or publication time), Evernote Web Clipper is very humane to forget some points about that news while you are in a hurry to raise it. This is where work discipline and order come to the fore. So what can be done to ensure this discipline and order?
What Can I Use Evernote For?
share lecture notes for students
Recording of voice memos with voice recording feature.
Saving website bookmarks more regularly from your browser (Evernote clipper)
To correspond with your business partner under the name of "work chat" only about business
Saving the articles you read or the pictures you like thanks to the Google Chrome Extension
You can use it for many things, such as labeling your notes and categorizing them according to your own pleasure.
You can scan and store business cards.
How to Install Evernote
Enter Evernote's site by clicking the link
Log in using your e-mail address
Download and install the program from the page that opens after logging in.
If you are not going to use it very actively, it will work for you even with the restrictions in the Free version.
How to use Evernote Web Clipper?
Evernote Web Clipper is very simple to use, it has a Turkish interface. If you have the habit of taking notes, you can create your own notes with ready-made templates. Since it is a cloud-based program, you can access all your notes by synchronizing them from your tablet to your phone.
Work Chat is the place to share notes with your friends or chat even if it's a little hard work
Shortcuts, you can have your favorite notes handy by right-clicking on a notebook and selecting add as a shortcut.
Notepads are much more useful, feel free to create lots of notepads.
Notes contained within notebooks.
Note Stacks, one of the in-notebook categories, is used to collect notes under the same heading.
Tags, If you tag the notes you created or the notes you saved from the internet with the help of Web Clipper, you can easily find them when you search.
The Search Bar finds the words you are searching for in the notes and directs you to those notes.
What are tags good for?
If you categorize the tags nicely, you can find everything you are looking for much easier. You can add more than one effect to the notes. If you save the tags as work, contacts, computers, technology, and games, it will be much easier to find them when you search.
You will understand better how useful a program is when you integrate it into your life.
Evernote Web Clipper Alternative is OneNote Web Clipper
Adblock For Youtube, Youtube Ad Blocker
Add To Chrome: Adblock For Youtube
Advertising 4