Best Password Manager Nowadays we have to create accounts for many sites and applications. Although various steps have been taken to ensure the security of these accounts, one of the most important factors is undoubtedly passwords. The security of your password is very critical to the security of your account. Therefore, using the same password on all accounts can be a big problem. This is where password managers come into play. So which is the best password manager?
Actually, before asking this question, it is necessary to talk about what a password manager is. Password or password managers are applications that store the passwords of your accounts and ensure that passwords are matched between devices. Some of the most popular examples of this are in Chrome and iCloud.
As you know, Chrome and some other browsers offer you an option to save your account information on the sites you log in to. This is the most basic task of a password manager. Browsers synchronize this information between your other devices. Thus, your passwords will be filled automatically on all devices with the browser installed and your account open.
A similar situation applies to iCloud Keychain. Your saved passwords are automatically revealed on all your Apple devices that you sign in with the same Apple ID. So you don't have to remember your passwords and you don't waste time logging in.
Password managers perform the same task. However, there is a rather big problem that password managers overcome. As you have noticed, iCloud Keychain or Chrome password manager only saves passwords from their platform. This means that you can't use a password you saved with Chrome in iCloud Keychain (unless you saved it manually).
Best Password Manager
Password managers are like a notebook that saves all your account information and passwords. You can use this ledger on different platforms and prevent unwanted account losses. So what is the best password manager? Here are the password managers we have chosen for you:
Dashlane
Dashlane is at the top of our list of the best password managers. Compatible with Windows, Mac, Android, iPhone, and iPad, this manager also covers many browsers. The application has support for the most popular browsers Chrome, Firefox, Safari, Edge, and Opera.
One of the biggest advantages of Dashlane is that it is seen as an extra layer of security. Thanks to the built-in VPN service, you are not only subscribing to a password manager, but also a VPN service.
Apart from that, one of Dashlane's security measures is "Dark web" scans. As a result of these scans, it is possible to track whether your account passwords have been leaked before. In such a situation, the application warns you to change your password. Especially if you use the same password in more than one account, this feature of Dashlane will save your life.
In addition to supporting so many platforms, Dahlane also offers an easy synchronization service. This simplicity expected from a password manager simplifies the work of users considerably. Moreover, Dashlane does not come with only paid plans. It should be noted that it also has a free plan.
Of course, there are some restrictions on the free plan. Among them, it stands out that it supports 50 passwords at the same time and does this for a single device. If you want to use Dashlane on multiple devices, you need to subscribe. The annual fee for unlimited devices is $40, and the monthly fee is $5.
LastPass
LastPass is second on our best password manager list. LastPass, which was first introduced to users in 2008, is one of the prominent programs on our list, especially with its user-friendliness. Let's take a closer look at the features of LastPass, which has a full free plan.
LastPass works with all major platforms. These platforms include Windows, Mac, Linux, Android, iPhone, and iPad. At the same time, there is no missing point in the browser area. It is possible to see itself in Chrome, Firefox, Safari, Edge, and Opera browsers.
We mentioned that the free version of LastPass is full. The first thing we come across here is unlimited password support. With the free version of LastPass, you can register an unlimited number of accounts on one device. If you are doing your work on a single device, the free version of LastPass will be enough for you.
In the premium version, we see that the number of devices has become unlimited. In addition, some additional security measures are offered to users with the premium version. Among them is the "Dark web" browsing feature we've seen before. In addition, a feature where you can share your password in case of emergency is also available in the paid version.
As we mentioned, LastPass offers a great plan for people who will use it on a single device. However, if you want to buy the premium version, let's say that you have to pay 2.90 € per month. In addition, this fee is deducted annually.
1Password
Third, our best password manager list is 1Password. 1Password, one of the most popular password managers, was first introduced to users in 2005. Although it only worked with Mac devices at the time, it is worth noting that today this limit has been exceeded.
Being one of the oldest password managers on our list, it has a well-established team of developers behind it. Like the programs we mentioned before, 1Password provides service to a wide range of platforms. These include, of course, Windows, Mac, Android, and iPhone.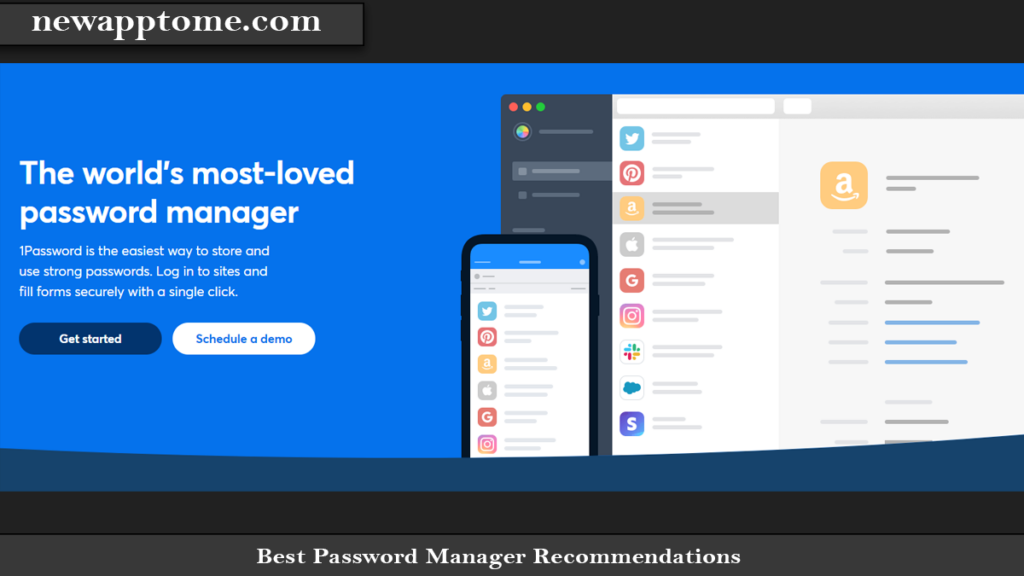 It is worth noting that in addition to these platforms, it also works with iPadOS, Linux, and ChromeOS operating systems. Of course, it also has an extension for Chrome, Firefox, Safari, Edge, and Opera browsers.
1Password can warn you of leaks thanks to its Watchtower feature. Thus, it takes action to change your passwords in case of any leakage. In addition, it is possible to delete all your data with the holiday mode and then restore it with a single touch. 1Password states that this feature was added to protect your data at border crossings.
One of the negative aspects of 1Password shows itself in the pricing section. 1Password, which offers a 14-day trial plan, unfortunately, does not have a plan that will allow you to use the software for free. The cost of using this software is expressed as 3 dollars per month. However, this fee has to be paid annually in one go.
Also, a more affordable family plan is included in 1Password's pricing. This plan, which is on sale for 5 dollars a month, provides the opportunity to use up to 5 users. This brings the cost down to $1 per person. However, it should be noted that this price is also valid for the annual deduction.
LogMeOnce
Next on our list of best password manager recommendations is a software developed by LogMeOnce. LogMeOnce has a long history of security management. The company, which has been serving in this field since 1986, has one of the best password managers today.
When we examine LogMeOnce's password manager, one of the most successful elements we come across is the support it provides for cross-platform use. In this way, logging in between devices is no longer a problem.
In addition, it is very important to note that it is a successful password manager with unlimited password storage and unlimited device support. Even with LogMeOnce's free plan, you can use unlimited passwords on an unlimited number of devices.
However, the free plan also has a downside. First of all, it should be noted that the security services in this plan are quite limited compared to the premium version. There is also support for encrypted file storage, starting with 1GB in the premium version. This figure drops to 1MB on the free plan.
Apart from that, it is useful to know that although it is free, this plan is supported by ads. Still, it is a great option for those who want to store an unlimited number of passwords on an unlimited number of devices, but do not want to pay money.
LogMeOnce's paid plans start at $2.50. The fee you have to pay for the 6-person family plan is expressed as 5 dollars. If you're looking for a password manager, we recommend you take a look at the platform.
Bitwarden
As we approach the end of our list of best password manager recommendations, another software we come across is Bitwarden. The story of Bitawarden begins in a way that we do not encounter in other products on our list. Bitwarden, which started its life as an iOS and Android application, also draws attention with its open source.
One of the most successful versions of Bitwarden is its free plan. It even shows itself in Bitwarden, Vivaldi, Brave, and Tor browsers with its unlimited number of devices and password support. Another important point that distinguishes it from its competitors is that it provides support for these browsers.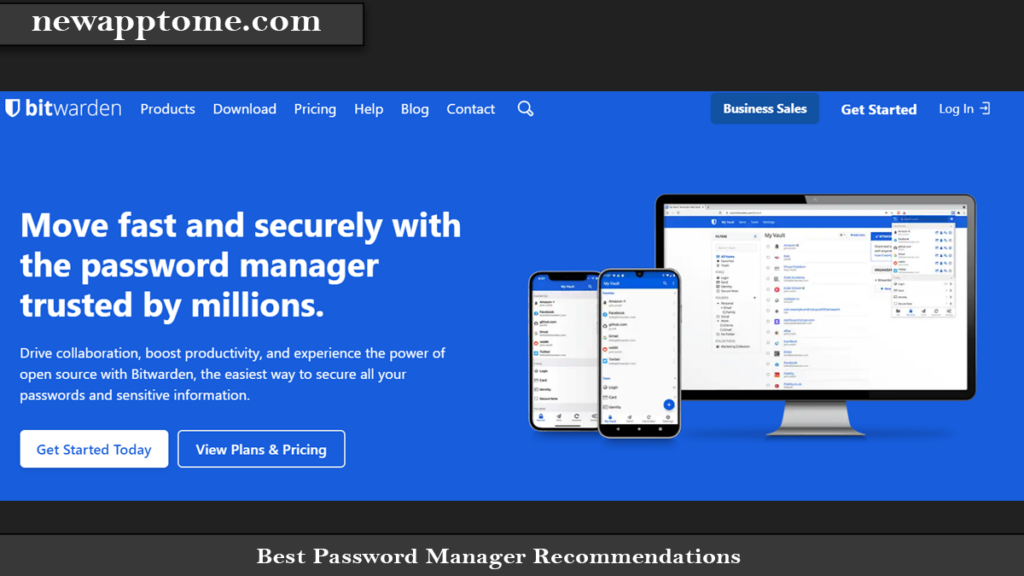 Bitwarden, which has a secure password generator as well as is open-source, also generates passwords for you. The password created by Bitwarden when trying to open a new account is automatically saved and shared with your other devices. Thus, without memorizing a password, the platform opens a new account and you can use it safely.
One of the most important features not included in the free version of Bitwarden is advanced two-factor authentication. Bitwarden offers dual-factor authentication with YubiKey, U2F, and Duo support in its premium version. In addition, it provides secure file sending with 1GB storage.
Bitwarden, an open-source password manager, impresses with its free version. However, if you want to be one of those who prefer the premium version, the fee you have to pay is expressed as 10 dollars per year.
RememBear
We continue our list of password manager recommendations with RememBear, which is among the best software. Support for many platforms and advanced security features make RememBear stand out. Moreover, it would not be wrong to say that it is user-friendly in terms of pricing.
Like other password managers, RememBear saves your passwords for you and fills them automatically at logins. It is also possible to store your credit card information and notes in RememBear. Moreover, it is stated that it uses Face ID, fingerprint, and 2FA codes to protect this information.
RememBear provides free use on a single device. However, it is stated that there is no synchronization between applications. Also, backup support is not included in the free plan. Among the platforms that RememBear supports are iOS, Android, Windows, and macOS. It is also stated that it has add-ons for Chrome, Firefox, and Safari.
To use it simultaneously and synchronously on all your devices, you need to use the paid plan. The company also states that it provides customer service support as a priority on the paid plan. A Premium subscription costs $6 per month.
Keeper is at the bottom of our list of the best password managers. Released in 2008, Keeper seems to be available on all major platforms. In addition to Windows, Mac, Linux, Android, iPhone, and iPad support, it is also possible to see itself in the most preferred browsers.
Before we start counting the features of Keeper, it is necessary to mention a negative side. Unfortunately, Keeper does not come with a free plan. But with a 14-day trial for businesses, you can test Keeper and decide if you want to use it.
Keeper offers an advanced level of protection for your passwords. Moreover, this security shows itself not only during protection but also during password sharing. In addition to these, with this software that keeps passwords and file history, it is very easy to follow your previous transactions.
Keeper is currently priced at $35 per year for personal use. However, it is worth noting that this fee is halved for students. For the 5-person family plan, this fee increases to $75 per year. We also recommend that you take a look at Keeper, one of the most reliable password managers on the market.
And so we come to the end of our list of the best password manager recommendations. Some of the password managers we share with you have a free plan, while others are only used for a fee.
Do not forget to mention the password managers that you find the most successful in the comments section below. You can also share your opinions about our content with us in the comments section.
Advertising 4